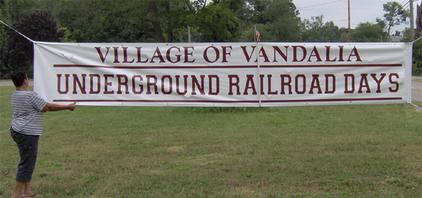 Underground Railroad Days set for July 7, 8 & 9.
A celebration of the Underground Railroad is coming to Cass County.
The Village of Vandalia, Michigan and the Underground Railroad Society of Cass County will partner for the eighth annual Underground Railroad Days July 7-9. The festival will celebrate the legacy of the Underground Railroad in the area, with activities available for people of all ages.
"Opening Night" will begin at 7 p.m. Friday, July 7, at Ross-Beatty High School Auditorium. The URSCC will debut the documentary "The Kentucky Raid" by local filmmaker Sally Conner.
The documentary tells the story of Kentucky slave catchers storming Quaker farms to take back slaves in August 1847, the reaction of local townspeople and the ensuing trial in Cassopolis. The presentation will be free.
On July 8-9, the Village of Vandalia will sponsor sales booths and family activities. A soul food dinner will be available for $10. There will also be a community church service hosted on the morning of Sunday, July 9.
URSCC is anchored in Milo Barnes Park across the street from the village hall. On Saturday and Sunday, there will also be guided tours of Kentucky Raid sites, presentations about various aspects of the Underground Railroad in the Vandalia Youth Center and entertainment at the "Ramptown Cabin" in the park. The 102nd Colored Troops will stage a Living History encampment, giving a glimpse of their role in the Civil War.
All these activities will be located next to the Vandalia Village Hall on M-60.
The Victorian Bonine House, home of Underground Railroad stationmasters James E. and Sarah Bogue Bonine, at M-60 and Penn Road and the carriage house across the street where freedom seekers were sheltered, will be open for tours.
Parking, admission and Underground Railroad tours are free, though donations are appreciated.
Hours for Underground Railroad Days are Saturday 11 a.m. to 5 p.m. and Sunday 11 a.m. to 5 p.m.  Admission and parking are free.Vendors can call Vandalia Village president, Beverly Young at (269) 476- 2344 to reserve booth space, which will cost $20 for two days.